Fashion has always inspired our interiors, and vice versa, which is why I've taken to Jessa, from the hit TV series Girls for her cray style. Yes, like every other twenty something girl (and closet male) I am obsessed with the show. She's a boho princess, a rocker and someone who just doesn't give a damn. With her carefree attitude comes a unique style (or five) we can all learn from. Below are some classic Jessa looks and how to incorporate them into your home.
1. Earthy colours work well together
Earthy colours look so beautiful on Jessa, and no matter how many hues she wears, it just … works. Think browns, beiges, oranges and ochres, teamed with neutral white to brighten it up.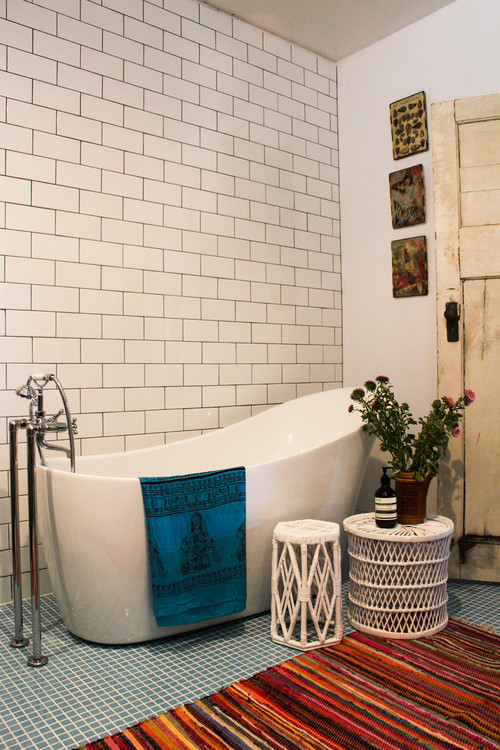 It's the same concept with interiors. I've always opted to use white for the majority of a space – on the walls or floors, for example, as it lifts the mood. Notice here how the white walls and bathtub lift the otherwise dark and moody colours in the rug and wall art.
These earthy colours work well in this eclectic bedroom and make for a cosy retreat. To get the same look, use natural textures like leather, animal hides, wool and cane to complement the earthy colours. If you want to liven it up, don't be afraid to mix in a brighter orange – it pares back beautifully with browns and timbers, as you can see here the pop of orange from the flowers and pillows.
2. White, floaty and soft creates the perfect boho style 
Yes, think lace, white on white and layer upon layer, like Jessa's wedding outfit.
In the home, this look can create a perfectly soft, absolutely cocooning and undeniably relaxing room. It's light, natural and pleasant for the eye.
To get this look stick to white and beige palettes and layer in different textures. I recommend using linen, woven rugs, marshmallow soft couches, macramé, beaded chandeliers and if you can sneak in some lace you get extra points. Keeping the palette very light and neutral is key.
3. A bit of rock could be the edge you need
Jessa has an edginess to her; it comes with her whole attitude of not giving a damn of what others think of her. So yes, she rocks a dark T-shirt and plum lips every now and then, what of it?
You can inject some rock 'n' roll into your house with small touches. A great way of doing this is an edgy artwork, like this updated Frida. This way it won't compromise your personal style but will add that edge you may need.
4. There is a time and place to be outrageous 
Clash colours, play with textures, (yes, I'm referring to those amazing feathers), throw in pattern and be outrageous!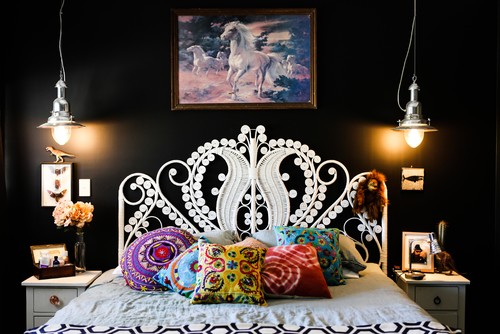 This bedroom by Alida and Miller is a great example of how perfect opposites can work well together. The cushions and bedhead wouldn't traditionally go with the dark wall colour and horse painting in this room, but it works nonetheless, in a good clashing kind of way.
A great way to get feathers into your room is by using Juju hats, also known as Bamileke feather headdresses. They look sexy yet soft when hung on your wall.  Don't be afraid to mix up the colours and sizes to create an interesting feature wall.
5. Paring it back gives you a chic look
Sometimes we just want a simple outfit we can slip into and feel a million dollars in. There's nothing sleeker than a plain white silk dress with red lips and black heels.. thank you, Jessa.
It's the same for your house. Sometimes you want a relaxing space with no distractions that simply looks good. The bathroom and bedroom are where this clean style works best, where all the relaxing usually happens.
Choose two or three neutral colours and work with natural materials such as white linen and timber. Leave the room free of clutter and keep decorating to a minimum.
You can catch Girls on Showcase at 7.30pm on Mondays, express from the US.
YOUR SAY
Which Jessa look do you gravitate towards most?